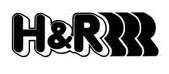 The H&R philosophy is simple and effective: To manufacture the best suspension products, using only the highest grade materials, and then back all of our products with unparalleled customer service. This philosophy has made H&R what it is today - the industry leader in high performance, quality suspension components. Be it on the street or on the track, H&R has become synonymous with consistent, proven suspension performance.
All H&R products are 100% made in Germany and exceed ISO quality assurance standards. H&R has an established heritage of industry respect and customer confidence due to the quality of our products, the definitive edge we give our customers' vehicles, and the additional benefit of knowing H&R works right out of the box.
H&R. The original-and still the best!